Enrichment
At Perry Hall Primary School we are committed to providing children with a rounded, culturally rich education, through and extensive range of enrichment opportunities beyond the curriculum that enhance their learning.
Our children are encouraged to develop an appreciation for cultural and community issues, teamwork and social responsibility outside the confines of the classroom. Building children's cultural capital and character development is central to our philosophy at Perry Hall, giving them the very best start to life. We highly encourage all children to pursue their own interests and talents, whether that be: in the arts, sports, science and technology or in caring for the environment.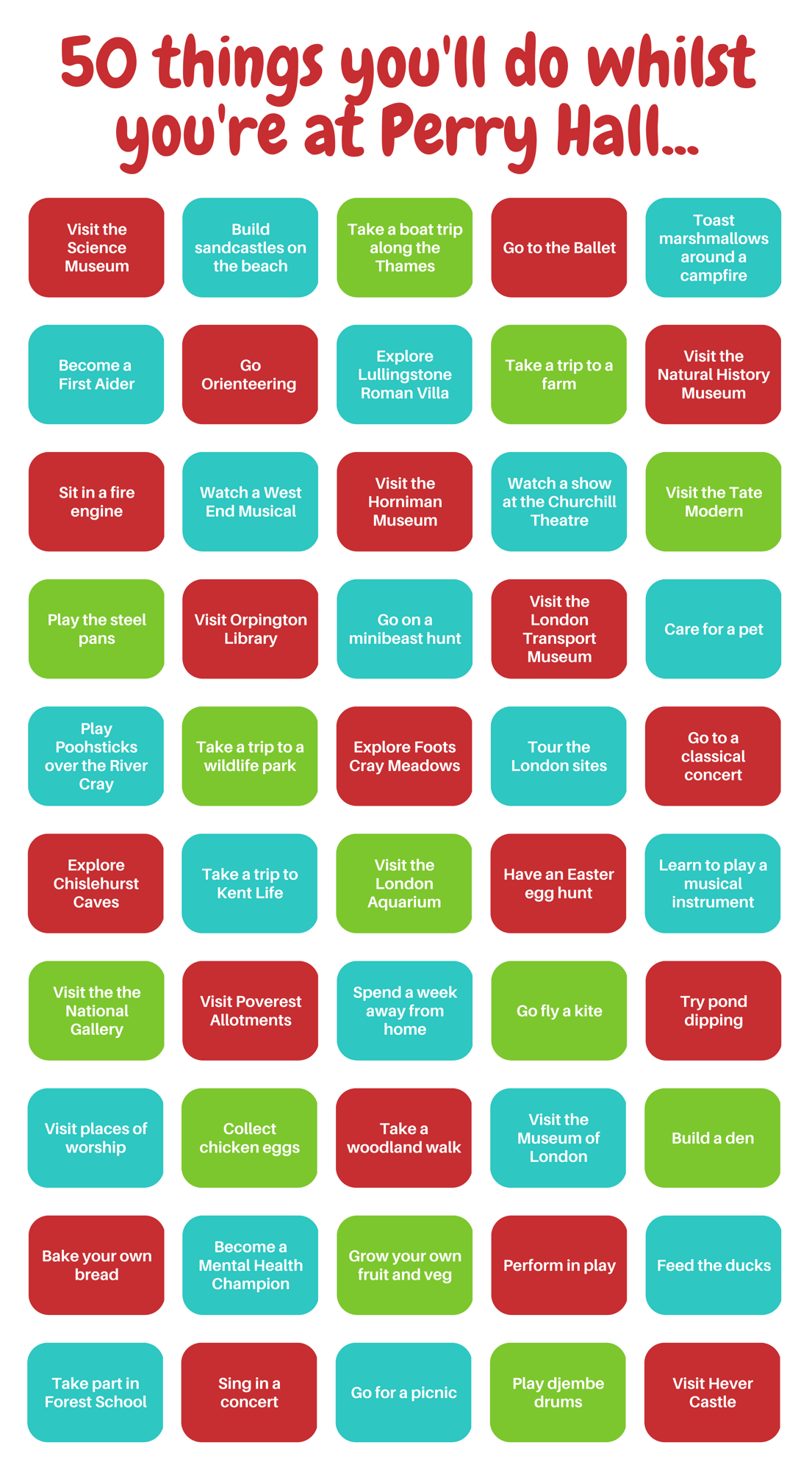 Enrichment activities at Perry Hall include:
A wide range of over thirty free lunchtime and after-school clubs to appeal to all interests. A number of paid after-school clubs are also available through outside providers (including Thai Boxing, Robotics Club and Spotlights Theatre School). To ensure equity for all, Perry Hall will fund two paid clubs for any child in receipt of pupil premium.
Weekly music and dance lessons that are delivered as a part of the curriculum by specialist teachers.
A wide range of individual instrumental/singing lessons provided by the Bromley Youth Music Trust (as a school we will fund this for any child receiving pupil premium or for families on low income). We encourage all KS2 pupils to join our school orchestra (Grade 1+) and choir. All Year 4 students partake in "Band On The Run", a series of classes across a term introducing children to the world of woodwind and brass instruments.
Every year group receive an eclectic mix of school trips and in house visitors. Recent trips have included: visits to the Museum of London, Howletts Animal Park and a classical children's concert at the Royal Albert Hall. Click here to see the full range of trips and visitors for 2022-2023.
School plays, concerts and class assemblies.
The school's chickens, ducks and guinea pigs give children the opportunity to learn how to care for animals whilst enhancing their science curriculum. Ramsey the therapy dog and Teddy the reading dog offer further support for children's wellbeing.
Whole-school events, including: World Book Day, British Science Week, World Maths Day and Take One Picture.
Children actively fundraise for a range of local, national and international charities, including: the Orpington Food Bank, Crisis at Christmas, the RNLI, Children in Need and UNICEF.
Yearly Scootability and Level 2 Bikeability training for years 3 and 6 respectively.
All Year 6 pupils recieve accredited First-Aid training (delivered by First Aid Buddies) and partake in the TfL Junior Citizenship Scheme, whilst Year 5 pupils train as Mental Health Champions.
Visiting speakers, for example authors, local figures or parents who have skills or expertise to share. Visits have included: the fastest British sprinter in recorded history, Dina Asher-Smith; gold-medal pentathlete Kate French MBE; former paralympic swimmer, solicitor and politician Lord Chris Holmes MBE; and children's author Cressida Cowell MBE.
Intra- and inter- sporting competitions, including: cross country, tennis, swimming, football and tag rugby.
Year 5 and 6 have the opportunity each year to audition for our 'Academies': extra-curricular sessions in Art, Music and Performing Arts, offered by industry professionals.
Local and national challenges like chess, maths and engineering competitions.
Actively supporting the local community, through: litter picking, links with local residential homes and carol singing at the St. John's URC Church's Friendship Club.